Sagapò Volunteer Association
What it is
Sagapò is a voluntary association that promotes individual and collective awareness of the values ​​of intercultural dialogue as a tool for the progress and improvement of the quality of life, nurturing friendship between people from different cultures and nations, promoting the principles of integration, tolerance and peace among peoples.
Sagapò's mission is to foster intercultural dialogue and religious confrontation and to overcome the obstacles to integration and civil and peaceful coexistence among peoples.

Il progetto Real Connection ha l'obiettivo di contribuire a contrastare il fenomeno del Bullismo e del Cyberbullismo tramite un approccio innovativo che prevede la realizzazione di interventi formativi, informativi e partecipativi rivolti alla comunità locale di Portici e di Napoli (quartiere Scampia).
Il progetto è finanziato dalla Regione Campania con risorse statali del Ministero del Lavoro e delle Politiche Sociali, ID n.94 Real Connection.
History
Sagapò was born in 1996 in Portici (NA) from a group of friends united by the aspiration to design and organize events to discuss issues about inclusion, racism and immigration. Since 2006, it has been active in youth policies and in the management of training and orientation events for work placement and business creation for young Italians and immigrants. These tools are considered among the most effective for overcoming the obstacles that prevent integration and civil and peaceful coexistence among peoples. Over the years, it has been involved in international mobility and in building connections with the home countries of young migrants, collaborating with entities and associations in Naples and its province and with representatives of local foreign communities.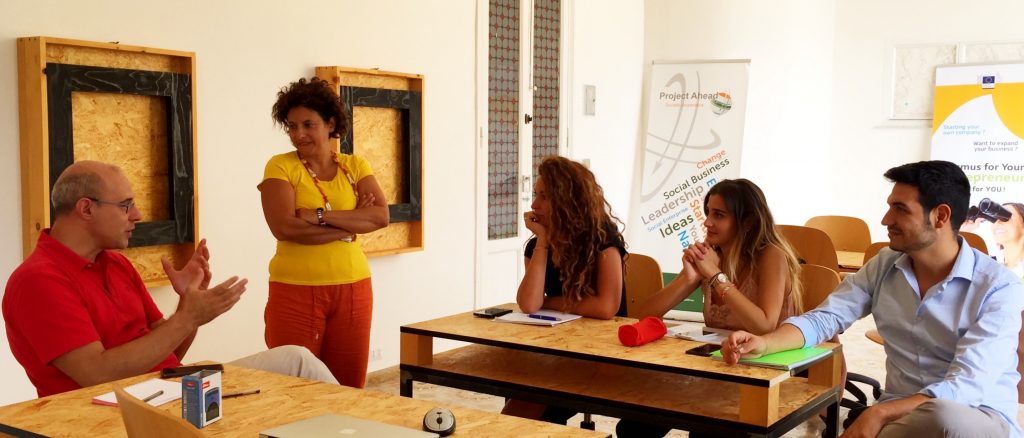 Projects
In 2010 Sagapò carried out support activities for the Don Puglisi Association of Portici for the creation of education courses on legality addressed to young people of the area and immigrants of Congolese origin (Percorsi di vita Project, funded by the CSV of Naples).
In 2012 it was involved in the territorial network of the Liberi Libri project,funded by the Foundation with the South, for the enhancement and usability of libraries through their transformation into multicultural aggregation centers with the involvement of young people, including migrants.
From 2006 to 2013 it collaborated with the Youth Services Center of the Municipality of Portici for the organization of creative happy hours focused on employment opportunities in the field of creative professions aimed at local young people, creatives and artists (Portici, San Sebastiano, Ercolano and Massa di Somma).
In 2017-2019 it led a national partnership for the realization of two projects funded by the Presidency of the Council of Ministers - Department of Youth:
- Dialogue Place, coworking and incubator for multi-ethnic social enterprises in Naples;
- Fork: People to Change, an action for the revitalization of the territory through the management of a common good addressed to activities aimed at stimulating traditional and artisanal entrepreneurship and intercultural dialogue.
"Cultural differences are the building blocks of humanity's progress"
Support Sagapò's initiatives:
Donate your 5 × 1000 Fiscal Code 94151740639